28.04.20
Continuing to look for Pixie Bleu II. We had been searching in the San Francisco area, then the Seattle area, now with Covid-19, online. The new studio with broadcasting ability is setup and ready to go, but where is that voice? Maybe the answer was always there. Stay tuned: BandCamp (CuirBleu.BandCamp.com)
01.08.19
We've decided it's time to get out of San Francisco and relocate to Seattle. Setup a new studio and book shows. We'll still visit for Folsom and other key Bay Area events. Stay tuned. BandCamp (CuirBleu.BandCamp.com)
25.04.19
The song "Pleasure and Pain" after years of being a B-Side has become our #1 played song beating out "Sex Toy". Who would have known? Also, Audio Terrorist has released covers of not only "Pleasure and Pain" as a hard rock song, but "Sex Toy" as an electronic remix too. Stay tuned. BandCamp (CuirBleu.BandCamp.com)
01.01.18
Continuing to post rarities on BandCamp, we forgot to mention the single "One to the Left" got offical release, found a box of Cuir Bleu video tapes to digitize for YouTube, much to do... Stay tuned. BandCamp (CuirBleu.BandCamp.com)
09.08.17
The single "Deliverace" has been mixed, mastered, and released: BandCamp (CuirBleu.BandCamp.com)
04.11.16
We will be releasing tracks from the "Things Dreams are Made of" album directly to fans for free via BandCamp (CuirBleu.BandCamp.com).
1. Phoenix III (Instrumental)
2. Things Dreams Are Made Of (live mix)
3. Dark and Moody (bust out mix)
4. One on the Left (acoustic mix)
5. What It Means to Share (disco mix)
6. Pretty Pony (scratch mix)
7. I have Grown (world mix)
8. Playground (scratch mix)
9. Erotique (karaoke mix)
10. Deliverance (radio edit)
11. Glisten (solo mixl)
12. Wax Pulling Hands (instrumental)
13. Darkside (beatbox mix)
04.11.14
Demos for the legendary third Cuir Bleu album have been found. These will be released on an album titled "Things Dreams are Made of". Hope to have this out in a couple months.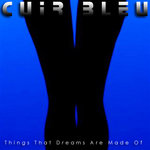 . Tracks include: G-Lissen, One on the Left, What It Means to Share, Dark and Moody, Things Dreams are Made Of (replacement mix), Sex Toy (harem), Erotique, Blue Leather (club mix). Stay tuned!
07.31.10
Cuir Bleu has partnered with Von Guttenberg magazine. The top 100 loyal customers will receive a copy of Sex Toy with issue #3! Watch for future collaborations.
05.16.10
HBO has contacted us for placing Sex Toy in a mystery episode. Stay Tuned.
11.23.09
Slip Away has been reviewed by international fetish magazine Skin Two. Take a look.
11.01.09
Hi everyone! The non-album single "Things Dreams are Made of" is available from our record label by clicking here.
9.01.09
Cuir Bleu will not be playing folsom this year.
10.01.08
Thank you to everyone who helped us welcome Dr. Presson at the Citadel! It's always a blast being a part of the Folsom Street Fair, and this year was certainly no exception! As suspected, Dr. Presson's percussive machines fit in quite nicely with the band's sound - even with the very limited time we had for rehearsal!
We will be taking hiatus for the next few months, both to work on individual projects, and to learn and tighten some new songs. We'll see you in 2009, with a new feel and a new show, under the very capable direction of our composer, synthesist and now band leader, Kalib! Stay tuned and we'll see you in the new year! ~ Miss Pixie
9.22.08
Happy Fall! And happy Leather Pride Week, too!
Cuir Bleu's Folsom Street Fair performance this year will be on Saturday night, September 27th, at the SF Citadel for, "This Shit will F*ck You Up - The Official Folsom Street Fair Party". Don't look at me - I didn't name it... but we've played it before and it's a huge amount of fun!
Come and join us if you can! This will be Lee Presson's debut performance with Cuir Bleu, and I can tell you from the rehearsals... it's sounding great! We'll be going on EARLY on Saturday night - 8:00pm! So be sure to get there in plenty of time. Doors open at 7:00. The $30 cover includes seeing the band, joining the party and taking advantage of the Citadel's fabulous dungeon space, if you are so inclined.
8.07.08
Kink-e-Zine Broke the News... Lee Presson has gone Bleu!
Welcome to the band, please, our newest member... Dr. Presson! If you've ever seen him on stage, you know what a dynamic performer he is. Lee will be joining us on "machines"... synths and electronic percussion devices... and back-up vocals, as takes his fancy. Kink-e-Zine has published their August Edition this morning, with an interview of the band - the Whole band!
You can also check out Dr. Presson's Bio page.
7.25.08
More Big News! Are the rumors true? Depends on which ones you've been listening to, I suppose! We have another member joining the band in September, and you're gonna wanna know who! Look for the August 1st release of Kink e-Zine to see an interview with the band's entire new lineup!
7.05.08
Pixie was interviewed by Joyce Hanson in New York, for her "Bad Girl Blog". Is Pixie a Bad Girl? Check it out!
06.28.08
The BIG NEWS is the addition of our newest member, Blackheart! Cuir Bleu's new Bassist comes from a background in music... he plays keyboards and guitar as well as bass, and has a funky style that's fun to groove to. He's also been an active member of the BDSM community for quite a few years. Check out Blackheart's Bio here. He debuted with the band at last night's Queer Playground party at the Citadel - help us welcome him in!
06.13.08
Sad news to share. Sean "Gobo" passed away today, after fighting diligently. The band played at a fundraiser for him several months ago in Santa Cruz, and wishes him a peaceful journey. Our sympathies go out to his family and friends.
06.05.08
The Dark Matter show has been cancelled, due to relocation of the venue. We hope to add an other Dark Matter performance to the schedule in the next few months.
06.01.08
There's something NEW on Cuir Bleu's horizon... come join us on June 27th as we celebrate SF PRIDE at the Citadel's Queer Playground party... and see.. and hear... what's up!
05.12.08
Pixie's new site is up - check it out! www.pixiebleu.com
05.05.08
Check out the Interview with Cuir Bleu on www.AltWriters.com !
05.01.08
Happy May Day! A beta version of Pixie's new site is viewable at www.pixiebleu.com - check it out and see what Pixie's been up to! It will have a sexy new look shortly, too!
04.20.08
There are some cool changes coming your way! We've been auditioning a few new members and will have quite a lineup on June 27th at the Citadel, just in time for San Francisco LGBT Pride! Who's been added? We're not giving away names just yet...
03.25.08
It is with great sadness that we announce Makana's upcoming leave of absence from the band. Life being crazy as it is, he'll be taking some time to focus on and finish his Sound Engineering program and isn't sure when he'll be able to join us again. We will be on hiatus for the next few months, restructuring our lineup, auditioning prospective bass players and learning a few new songs. Please join us in thanking Makana for all the hard work, great sound and amazing Presence he's contributed to Cuir Bleu! We love you and we'll miss you!
02.27.08
Be sure to join us on Friday night March 7th for Queer Playground at the SF Citadel! This will be our first time performing at this particular party and we're really looking forward to it! Remember - all Citadel events are adult-themed private parties. Queer Playground is open to all LGBTQ folks and their friends. More info of course on the gigs page or at the SF Citadel's site, www.sfcitadel.org.
02.20.08
We have a new crew member! Go to the Crew page to help us welcome Bill to the team!
02.10.08
Cuir Bleu and Audio Terrorist helped the Blue Lagoon to raise over $2400 for Gobo's benefit! Thanks to everyone who came and made it happen!
02.05.08
Come join us tonight for Dark Matter at Edges in Santa Clara! Doors open at 8:00, and the band starts at 9:30. For more details, see the Gigs Page.
01.28.08
Kalib, Lita and Makana will be doing a special performance as Audio Terrorist on February 15th for the Save Gobo Benefit in Santa Cruz. Come show your support and cheer them on! Details Here.
01.15.08
We've been chatting with folks at a few venues, and may have dates set for shows at the SF Power Exchange and possibly Mission Control as well! A Citadel show has been added for August 1st, Bent:Uniformity. Bent is the Citadel's "Youth Energy" party, and it's always alot of fun!
01.10.08
We've added two shows at the Citadel, March 7th and June 27th (Pride Friday) at their Queer Playground event! Check out the Gigs page for details.
01.05.08
We're rolling right along into 2008! We've been asked to return to Edges for their next Dark Matter club on February 5th. You must RSVP to attend! If you're not an Edges member, please email BladeDom@gmail.com to RSVP. 18+ adult-themed party... band goes on at 8:30. We'll see you there!
12.28.07
New Years Day Show!
Cuir Bleu will be playing at 8pm for AltWriters.com's Launch Party at Edges. The doors open at 7pm and the show starts at 8pm. To attend you must be an Edges member or RSVP by emailing BladeDom@gmail.com Prices are $10 for members, $15 for RSVP folks.
10.31.07
Happy Halloween from Cuir Bleu!
09.25.07
CD's are now available at Stormy Leather and Mr. S in San Francisco for the folks who like all the kinky packaging and art. Swing by if you are in town for Folsom.
09.05.07
The lovely Ms. Lita was spotted rocking out with her other band: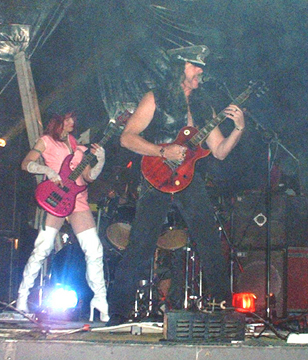 08.13.07
You can now request our CD's at most record shops if you don't care to shop online or via mail order.
06.18.07
PRIDE is upon us! Come join the band at the 37th Annual SF LGBT Pride Parade THIS SUNDAY, June 24th! Cuir Bleu will be on the SFCitadel's float helping to lead off the Leather Contingent and it's going to be a blast! If you want to join us for the parade click here for more info.
After the parade, come to the Citadel for a Post Pride Party - only $5 cover! Doors open at 5pm, the band plays at 6:30 & 8:00. Come cool down and heat back up! There will be rope & whip demos, refreshments & a spanking good time!
06.01.07
NEW VIDEO on YouTube! We've posted a rough edit of the SEX TOY video here!
05.22.07
iTunes is up an rolling! If you want to buy the Sex Toy CD from iTunes, log in, put "Cuir Bleu" in the search field and click on "Sex Toy". And please leave a review for us there too!
05.20.07
We did a very cool photo shoot with Duane Stevens at the Supperclub SF. It's an awesome place and we had alot of fun doing it! Be sure to join us for the CD release and VIP Party at the Supperclub on July 12th!
05.17.07
Cuir Bleu Sex Toys Available Soon on iTunes!
What better place to find them? Our distributor, Cd Baby, tells us that the Sex Toy CD is being uploaded for digital sale to iTunes this month! We're also starting to get distribution in some of the best Bay Area leather stores... look for us soon at Dark Garden Unique Corsetry, Stormy Leather, Leather etc and Mr/Madame S Leather in San Francsico!
05.07.07
Be sure to catch the band at the SF Citadel this weekend for "Sex Toy Saturday"! May 12th, doors open at 8:00 and we'll be doing two half hour sets at 10:00 & 11:30. $20, 18+ only. This is an open Play party & pre-release for the new CD. It's Sex Toy Saturday - be one or bring one!
04.30.07
They're Heeeere! Yes, the new "Sex Toy" CDs are finally here! We've got pre-release copies for sale through CD Baby right now! You can also download the MP3s from our site at $.99 each or the entire CD for $9.99. Your Sex Toys are here!
04.28.07
Happy Wedding Day to Chris-the-Roadie!
03.24.07
CD-R master and art files for the "Sex Toy" album have shipped to Rainbo Records in LA for replication! We should have initial product in 3 weeks. We'll start planning a pre-release party shortly & let everyone know
02.25.07
More adventures in VideoLand! Cuir Bleu will be teaming up with Alt Life Film for the 2007 Noise Pop Film Festival's music video contest! We'll be reporting in at 9am to receive our "three secret ingredients" and then we're off for a day of filming and video creation... wherever & however they tell us to!

Come join Kalib, Makana & I - along with Blackheart, our videographer extraordinaire - at 8pm on March 3rd at the 12 Galaxies in San Francisco. You'll get to view our new hot-off-the-presses video and the others that were made that day! We're excited to be participating in the Pop Noise Fest and would love to have everyone there for the first viewing!
02.11.07
Filming has been completed on the Sex Toy video! We've done three shoots in two weeks, with a cast of two dozen... it's been quite an undertaking! We shot in San Francisco at the Citadel, the Power Exchange, Pyramind & Outpost Studios. Our heartfelt thanks to everyone who made it possible - especially Richard Bottoms, our Director extraordinaire! We can't wait to see what it looks like! If you want to take a look at the project, and see who was involved, go to the Video Production page.
01.21.07
OK, we've been under lockdown in the studio for the past month, and we're getting closer! The final mixes are nearly done, and we're in the home stretch. I've updated the Sex Toy album page for those who want to take a peek. Despite being in the midst of production, we might have a few shows coming up, so be sure to stay tuned! If you're not on the newsletter mailing list, email and let me know so you'll get the updates!
12.16.06
See you at the NCSF Fundraiser tomorrow night! This will be our last gig before we batton down the hatches to complete the "Sex Toy" CD. We're hoping for a March-April 2007 release so watch this space!
11.27.06 Two Citadel Shows Added!
Fandango at SF Citadel, December 10th. Join us for the Citadel's Fandango party, following closely on the heels of Lady Thorn's SM Flea Market! Fandango runs from 6:30 til midnight, and Cuir Bleu will take the stage around 8:30. Hope to see you there! 18+ Tickets $20 at the door.
NCSF Dinner Cabaret Fundraiser at the SF Citadel! Sunday, December 17th, Kalib, Makana and Pixie of Cuir Bleu will be performing at the Citadel to help raise funds for the National Coalition for Sexual Freedom. Come join us for dinner, drinks, guest speakers, rope bondage demonstrations... cause what's a party without a bit of rope? Two short sets, at 5:30 and 7:00. 18+ Tickets $20 at the door.
11.16.06
Thanks to those who showed up for Kalib's birthday at Club Anton! And also to Lipstick Conspiracy who did a great show - we're looking forward to playing with them again in the future!
10.30.06
The "Sex Yoy" CD project is still in production... stay tuned! The date has been pushed back a bit to allow for some additional work on a couple of songs... and a potential remix or two that might be added on. It's all sounding good and we're hoping for a February-March 07 release date.
10.18.06
Berkeley Fundraiser show for Oct 22nd CANCELLED - this event will be rescheduled for February, exact time & date TBD.
10.01.06
Cuir Bleu will return to Club Anton in Oakland with Lipstick Conspiracy on Wednesday night, November 15th. Come help us celebrate Kalib's birthday in style! Details on the Gigs page...
9.30.06
New songs have been added to the free downloads page and the entire Slip Away - EP is now available to purchase right from this site. In addition, songs from the forthcoming Sex Toy album have been posted for sale as well. Live favorites like The City, Sex Toy and Haunted Play are now available for the first time!
9.23.06
Cuir Bleu will be performing tonight at the Citadel's Folsom Eve Party! It's true... we've become the Citadel's house...er... dungeon band!
Future performances: October or November (Date TBD) at Club Anton in Oakland with Lipstick Conspiracy! October 22nd Fundraiser event in Berkeley. See the Gigs page for details.
9.15.06
Come join us as Cuir Bleu welcomes ladies of the Bottoms Up! Burlesque to the stage! It's the Folsom Street Fair Pre-Party at Bondage A Go Go this Wednesday night, September 20th. Doors open at 9:30, the band goes on at 11:45 - Details Here.
9.12.06
Cuir Bleu's music can be heard in the new vampire film, "The Last". The preview showing will be this Friday Sept. 15th in Santa Cruz California. For more info click here.
9.04.06
Cuir Bleu's first ever concert footage video has been uploaded at YouTube! Check out the band performing "Take A Picture" at SF LGBT Pride 2006! It was an incredible event, and the video turned out great! Thanks to our videographers Tony, Jsin, Jan, Duane and Ron - and some great video editing by Kalib that brought it all together!
8.31.06
The Club Anton gig went well, with lots of video and camera coverage. Crooked Family kicked off the evening with a hard hitting set from the rock opera, Thanatics; Avalon Rising played an awesome set of Celtic rock; and the black marble bartop was lit on fire! Before our performance, Cuir Bleu was interviewed by Jsin Diablo for his show, Late Nite Sinners - check it out!
8.15.06
A video for "Falling Through Mirrors" has been added to YouTube - check it out! Our next show is at Club Anton in Oakland on August 30th - hope to see you there! Details can be found on the Gigs page...
7.30.06
The original "I'm Your Lover" video is now on YouTube.com Just search for Cuir Bleu. We plan to post some live videos soon...
7.23.06
Burnt Ramen was shut down by the Police. The shoot has been cancelled.
7.22.06
Last minute booking - Cuir Bleu at Burnt Ramen!
Cuir Bleu will be performing at Richmond warehouse space Burnt Ramen This Thursday, July 27th at 8:00pm. This show will be taped for Berkeley Public Access TV and will include a live studio audience. If you want to come and join us, email Pixie for details!
7.21.06
New Gig Date!
Cuir Bleu will be playing Club Anton in Oakland on Wednesday night, August 30th. It's a beautiful night club near Jack London Square, with a very nice hardwood dance floor and plush loungy decor - come join us! Time and further details will be posted as we have them...
7.10.06
Photos are up from the Pride gig on the Cuir Bleu Tribe - we'll get some posted to this site shortly, too! This month's Bleu Note is also currently in the works. Be sure to send me your email address if you're not receiving it yet!
6.30.06
The Pride show was awesome - thanks to EVERYONE who showed up and made it such a huge success! The dancers were hot, the band was tight, the crowd was dancing - couldn't ask for more in a show! We've got some gigs in the works, so be sure to check in on our Calendar Page weekly for updates!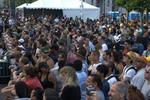 6.23.06
Just in time for PRIDE! Cuir Bleu is being featured on a BRAND SPANKING NEW internet radio station, Radio Bisexual dot Com. Check out the FREE download of the Sex Toy mix, and see what the station has to say about your favorite Electronic Rock band! We also have songs in their weekend rotation - check it out!
6.20.06
Four more days til Pride - and the band is gearing up! We've got two fabulous new go-go dancers, Joi and Ophelia, joining in the fray - this will be a HOT show! Dress rehearsal went well on Sunday - more info & a photo can be found on my Tribe blog.
6.15.06
All about Pride!
CUIR BLEU will be performing on the Main Stage at San Francisco's 30th annual Pride Celebration on Sunday, June 25th! Headliner Lisa Lisa is on at 4:30 and Cuir Bleu takes the stage at 5:15 ~ come on out and join us! For more info, you can check out www.sfpride.org/celeb/mainstage.html . The main stage is in front of the SF Civic Center, and is best accessed via BART or Muni. See you there!
5.24.06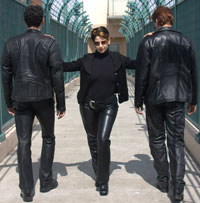 This just in! Cuir Bleu is happy to announce the addition of Makana Morab, our new bassist! Makana will be joining us at SF Pride on the mainstage, June 25th. We expect to have quite a stage show planned, so be sure to come and check it all out!
5.16.06
Sneak Attack! A sneak preview of Cuir Bleu's brand SPANKING new single, Sex Toy (Phone Sex Mix) debuted on Pirate Cat Radio's "Sneak Attack" May 15th - be sure to listen in to future shows every Monday night from 8-10pm!

For those not yet in the know... Pirate Cat Radio is at 87.9FM in both the San Francisco and LA areas. Sneak Attack airs from 8:00-10:00pm... more info can be found at www.sneakattack.us and at www.piratecatradio.com. Podcasts will also be available. Sneak one in!

5.01.06
Happy May Day! Cuir Bleu's CD, "Slip Away" is now available on Amazon.com - check it out! We're also pleased to announce the band's presence on MySpace - come say Hi and listen to some free music!
4.05.06
The Bent:Uniformity show on March 31st was a blast - and everyone had a SPANKING good time, to be sure! Many thanks to our hosts for the evening, Chey, Stef and August.
3.04.06
Happy Birthday to me! What an amazing Birthday Bash at Club Shadowplay last night! If you want to see a shot of my favorite birthday cake ever, check it out on the Cuir Bleu Tribe's photo page!
2.23.06
"The City" video now available for iPod (video). Download it from the Video Page!
2.18.06
Free ringtones from "Slip Away - EP" added to the music section.
1.18.06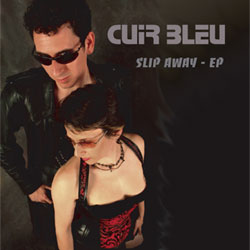 Packaging for the re-issue of "Slip Away" is in the works, and we should have copies at the March 3rd show. Kalib and I spent the past weekend at the NAMM convention in Los Angeles, ogling music gear and planning the year ahead of us. Photos will be posted soon on the Cuir Bleu Tribe.
1.09.06
Welcome to the New Year! Cuir Bleu's first public performance this year will be on Friday March 3rd at Club Shadowplay in San Francisco. The band goes on at 10:15 and admission is Free before 10:30, and $5 after. It's Pixie's birthday party, so be sure to come and have some cake! For further details, please see the Calendar.
The first 2006 issue of Cuir Bleu's newsletter, The Bleu Note, will be released shortly - if you're not on the list, be sure to email Pixie to join - there are give-awys each month and info you won't want to miss!
12.22.05
Happy Winter Holidays to everyone! We hope to see you all in the new year for more gigs and fun events!
12.17.05
Video iPod versions of Falling Through Mirrors and I'm Your Lover now available.
12.08.05
For those who like to remain state-of-the-art... we've got you covered! By the song or by the entire album... buy the song or buy the entire album! Slip Away is now available on iTunes and 20+ online music services, for the convenience only digital downloads can offer. Of course, if you still prefer to get a bit more physical... you can still order the CD!
12.01.05
December's newsletter, The Bleu Note, has been sent! If you didn't get a copy or want to be added to our mailing list, please email me with your name & email address and I'll get one out to you right away. We like to keep our fans informed!
11.30.05
Video iPod versions of our videos will be available in the TechRestore booth at MacWorld in January.
11.25.05
Quicktime 7 is now available for Windows. Download, install, and watch our videos.
10. 20.05
Remember us when putting together your holiday gift list! Cuir Bleu's CD "Slip Away" is a great gift, and every purchase helps the band get more music out to you! Support independent music by buying CDs from Cuir Bleu, Audio Terrorist and other Indie Artists! Check out our CD orders page for more info!
10.15.05
A new Club Remix of Blue Leather is in the works - can't say any more just yet, but we just got back a scratch copy and it's VERY COOL! We'll post a clip once we get the go-ahead... stay tuned!
10.01.05
The CD Release party was loads of fun - photos to be posted shortly! Shadowplay is a great little club - DJ Donimo spins music I like dancing to, so he'll get my vote every time! Tim and Dan are good folks and easy to work with and as I suspected, The Stud proved a good venue for us. The stage was a bit small - it was cramped with only Kalib and Mark - but the profusion of go-go blocks made up for it in my mind. And congratulations to our raffle winners! CDs and Paddles were won and enjoyed!
The only glitch in the evening's festivities came later, when Mark's gear was stolen from his car. It's a big glitch - personally, I think artist and musician materials should be held sacred by the community - obviously there are those who think (and act) otherwise. Avalon Rising will be having a benefit show on Saturday, October 15th to help Mark recoup the cost of replacing his gear. Details to be had on the Avalon Rising site - check it out if you can!
09.29.05
Come join us at Club Shadowplay on October 7th for Cuir Bleu's first ever CD Release party! We'll be celebrating with hors d'ouvres, give-aways, CDs, a full bar and great music from 10pm until 3am. DJ Donimo will spin New Wave, Electronica & Disco Punk - and of course, cuts off the new CD, Slip Away. Special Guest Performance by Cuir Bleu at midnight! It's all at the Stud at 9th & Harrison in San Francisco's SoMA district. Hope to see you there! Wear your Cuir Bleu shirt for FREE ENTRY until 11:30pm!
09.26.05
folsom street fair was a blast! It was estimated that nearly 350,000 people attended this year's leather fest! The view up Folsom Street from the 7th Street Stage was pretty amazing. It was great seeing alot of our fans there, and we made some new friends. Mark Ungar joined us on bass and guitar and really brought out the "rock" in electronic rock! Thank you's go out to our fabulous Black and Bleu Crew, to the volunteers who helped us put it all together, and to Sparky and Putanesca at the 7th Street Stage.
09.17.05
we're gearing up for the folson street fair - are you? we'll have videographers and photographers starting around 12:00noon, and the band takes the stage at 12:15. have you always wanted to be in a music video? here's your chance! Come show up and dance while the band is on - no telling where you might find yourself!
9.12.05
a huge thank you to everyone who bought albums to support the hurricane katrina relief fund! over 5000 artists on cd baby joined in this effort, contributing all their proceeds. kalib's other band, audio terrorist, is currently still participating - you can check them out at www.cdbaby.com/audioterrorist.
09.08.05
who is severin? want the dish? click here for lots of insider info...
08.30.05
highlights from our first official newsletter...
* debut ep "slip away" limited edition CDs are now on sale at cdbaby.com at $7.49 each * all proceeds go to aid hurricane katrina victims * date and time for cd release party have been confirmed * new cool band shirts have been added to the cuir bleu store, including a fan club shirt created by kat kaos * a fun band fact freebie was answered and a CD was won - details will be in the next newletter * are YOU on the list? if not, e-mail me and i'll be sure to add you before the next issue is, well... issued!
08.24.05
this just in! cuir bleu's record release party for "slip away" will be at club shadowplay, at the stud in san francisco! a favorite haunt of mine from way back when, it's a great spot for it with plenty of dance floor and a great dj, donimo. the tentative date for this is friday october 7th, so be sure to mark your calendars and i'll keep you posted! - pixie
also - if you've listened to or bought a copy of "slip away", please take a minute to post a review for us at www.cdbaby.com/cuirbleu. thanks for your support!